Bio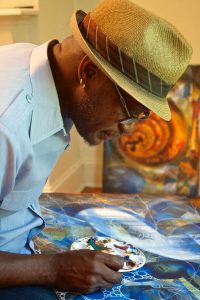 Daniel Minter is an American artist known for his work in the mediums of painting and assemblage. His overall body of work often deals with themes of displacement and diaspora, ordinary/extraordinary blackness; spirituality in the Afro-Atlantic world; and the (re)creation of meanings of home. Minter works in varied media – canvas, wood, metal, paper. twine, rocks, nails, paint. This cross-fertilization strongly informs his artistic sensibility. His carvings become assemblages. His paintings are often sculptural.
Minter's work has been featured in numerous institutions and galleries including the Portland Museum of Art, Seattle Art Museum, The Charles H. Wright Museum, Tacoma Art Museum, Bates College, University of Southern Maine, Center for Maine Contemporary Art, The David C. Driskell Center and the Northwest African American Art Museum. A travel grant from the National Endowment for the Arts enabled him to live and work in Salvador, Bahia Brazil where he established relationships that have continued to nurture his life and work in important ways.
Minter has illustrated over a dozen children's books, including Going Down Home with Daddy which won a 2020 Caldecott Honor and Ellen's Broom which won a Coretta Scott King Illustration Honor; Seven Spools of Thread: A Kwanzaa Story, winner of a Best Book Award from the Oppenheim Toy Portfolio; and The Riches of Oseola McCarty, named an Honor Book by the Carter G. Woodson Awards. Minter served on a team of artists commissioned by the City of Seattle Parks Department to create a water park in an urban Seattle neighborhood. He was also commissioned in both 2004 and 2011 to create Kwanzaa stamps for the U.S. Postal Service.
As founding director of Maine Freedom Trails, he has helped highlight the history of the Underground Railroad and the abolitionist movement in New England. For the past 15 years Minter has raised awareness of the forced removal in 1912 of an interracial community on Maine's Malaga Island. His formative work on the subject of Malaga emerges from Minter's active engagement with the island, its descendants, archeologists, anthropologists and scholars. This dedication to righting history was pivotal in having the island designated a public preserve. In 2019, Minter co-founded Indigo Arts Alliance, a non-profit dedicated to cultivating the artistic development of people of African descent. Minter is a graduate of the Art Institute of Atlanta and holds an Honorary Doctorate of Arts from The Maine College of Art.