"House of Light" Daniel Minter, 2010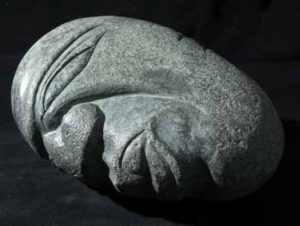 The artists say they can feel the dead man. They're in the dead man's house, after all. He is James Washington Jr. He died 12 years ago, and each artist who takes up temporary residency at the little house where he lived on tree-lined 26th Avenue is haunted; it is a perk of their residency.
This haunting is not just anecdotal. Following the words of sociologist Avery Gordon in her book Ghostly Matters, this haunting matters, or might matter. It infuses any art made here, judging from the exhibition at the Hedreen Gallery featuring all the resident artists over the years. Ka Basha is a sculpture with a lamp and a video of the departed artist walking into his studio. Reza Safavi, Garric Simonsen, and Nickolus Meisel manipulated the video so that a flickering ghost accompanies the broad-shouldered Mr. Washington. (Everyone calls him Mr. Washington.) The ghost turns on a light in the studio, which trips on the physical lamp of the sculpture and also triggers audio found and taken on the grounds of the house. The audio includes Washington's bursts of falsetto laughter and speech: "You say, well now, what am I lookin' for?" Washington recorded himself often, and the Edison wax cylinders that captured his voice have been the material of at least two other artists in residency, too (Meghan Trainor and Esther Ervin).
Being in residence at the Washington Foundation means that you use what you find while climbing into crawl spaces, creaking open books in the basement library, overturning undiscovered palm-sized carvings on as-yet-untended shelves.
"To be haunted is to be tied to historical and social effects," sociologist Gordon wrote. Why does it matter whether art is tied to historical/social effects or merely a pouring out of individual/personal intentions?
To be haunted in the name of a will to heal is to allow the ghost to help you imagine what was lost that never even existed, really. That is its utopian grace: to encourage a steely sorrow laced with delight for what we lost that we never had; to long for the insight of that moment in which we recognize, as in Benjamin's profane illumination, that it could have been and can be otherwise.
Mr. Washington envisioned otherwise. He'd come to Seattle from the Deep South, where his father "disappeared" after threats from the KKK. In Seattle, he fought for equality and workers' rights. He ran a shoe-repair shop and did electrical wiring on warships at Bremerton. His wife, Janie, was a nurse. He made paintings and collages, some acerbically political, but his most lasting artworks are quiet granite carvings of cocoonlike, soft-bellied birds.
Mr. Washington was never as prominent as Jacob Lawrence, the powerhouse name in African American art history in Seattle. But Mr. Washington left just as much to be taken up by future artists and audiences. He planned his haunting. He set up the foundation. He had their home designated as a historic landmark. His passing on was of the inheritance kind, not disappearance. Not like his father's. The Material Calls is the most comprehensive exhibition of the Washington Foundation residents, along with a few pieces by Mr. Washington. (Christian French is the 22nd, and current, resident.) Sculptures made of fabric and wax paper, MDF and white Carrara marble line the walls and spill onto the floor and benches in the gallery. A talk on Central District history (July 28, Northwest African American Museum) and poetry and music (Aug 11, Hedreen) accompany the exhibition. For the full experience, you have to visit the house, too. Call anytime to make an appointment; admission is free.
The house is small and packed. The living room is a dramatized display of Mr. Washington's effects. Over the couch hang the twin totems that presided in his studio: a 19th-century art print of a slave auction—the older gentleman for sale dressed in the suit of a butler—surrounded by a vigilant scattering of African sculptures and weapons. Outside the house, gardens are strewn with rusted tools and stones awaiting carving. Stairs down the hill of the backyard lead to an unheated separate studio full of wonderfully outdated equipment. A pencil drawing of Oprah Winfrey by resident artist Charles Parrish (also an older African American man from the South) once sat on the workbench beside the cold woodstove; you never know what you will find.
In March, Pamela Phillips became the foundation's new director. She has begun running children and elder art classes in addition to overseeing residencies and doing tours. Residencies are currently only for Washington artists due to grant restrictions from the city and state, but the plan is to expand. Tim Detweiler, the foundation's first full-time director (now head of the Museum of Northwest Art in La Conner), nurtured the early years of the residencies and oversaw the transformation of house into domestic museum. He could be found digging through archives, storytelling, pointing to recent discoveries on the grounds. Or discoveries across the country, like the six busts of African Americans Mr. Washington completed for a black-owned mall in Philadelphia, which were vandalized—actually given white-face—then removed and lost to history, until a phone call by the foundation prompted a search. The busts had been hiding under a stairwell for 15 years.
"Art is a holy land," Mr. Washington liked to say. Possibly he just meant it was a place of otherwise. Several pieces in The Material Calls feel holy, ghostly, utopic. A spell to remember or forget is a hollow log with a carved surface and a smooth stone inside it by Romson Regarde Bustillo. House of Light by Daniel Minter is an altarpiece-like portrait of an African American man flanked by brooms with painted and carved handles. In a statement, Minter explained that the brooms reference not only cleaning/clearing but also "jumping the broom" ceremonies performed by enslaved couples denied the right to marry. Minter, who met Mr. Washington before his death, described being in residence at the house years later, in 2010.
Like Mr. Washington, I consider myself to be self-taught. We are African American men who grew up in the rural South at a time when there was not a formal way of discussing and learning the things that we were charged with looking for. The cultural and spiritual inspirations that made up our communi- ty, the beauty, the trials and passages of our mothers and the continuum of nature. Here in the house of Mr. Washington live echoes of conversations never held. I would listen to those echoes in hope of learning from Mr. Washington and seeing myself in the light in the stone.
What he hears in the walls may be specific to him, but it could apply to anyone with a vision of otherwise, imagining a future that extends from listening in on conversations never held, meeting the ghosts of ideas that die but don't end.