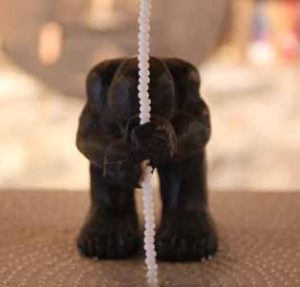 Daniel Minter's art is heavy with life. Weighty. Grounded. And simultaneously full-winged. The paintings, sculptures, block prints, drawings and mixed media assemblages in this exhibition are the sum of more than two decades of labor in the service of remembering. Like the walking roots of his okra plant in "Oxala-Balance," where the faithful one crouches in communion with the earth and the orixá, Minter's Georgia beginnings are the steady fount of his artistic witness.
Gathered here are the exiled silhouettes of Malaga Island, Maine; the wide-eyed/squint-eyed faces of Ellaville; the iawos and orixás of Candomblé; and the ordinary tools of an older, yet present, Southern Blackness – kitchen combs, nails, sideways glances, stacy adams by the barbed-wire fence, big bones and farming tools, rocking chairs and the bare black arms of trees.
This first, full reckoning of the artist's mature vision grants us a singular opportunity to recognize and acclaim Minter's outstanding capacity to say profound things with relatively simple means. The work is not "complicated" in the sense of having to suffer to appreciate it. Rather, Daniel Mint- er's art meets us at many levels – speaking plainly to our spirits, in the gestures and layered gossamer textures of the work, as well as to our visual delight in the striking colors, skilled forms, and in the certainty of Minter's exaggerated love for the soft and bold features of Black bodies.
Informed by his sojourns, keen perceiving, and a masterful and honed craft, Daniel Minter recounts a diasporic story for us. In the many haunting and poetic images of A Heavy Grace, A Shallow Home we are given remembrance. A gratitude of roots. Maps. Sight. And strong winds whispering toward home.
Rachel E. Harding, PhD | Denver, Colorado | March 2011